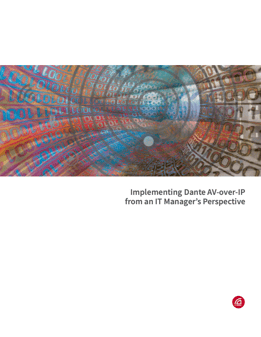 AV systems are increasingly expected to be integrated with enterprise data networks, but IT Managers may not be familiar with the specific requirements of AV-over-IP systems and common AV practices. Conversely, AV professionals may not know the concerns of those managing the enterprise network. This technical paper helps both sides understand each other's needs.
Download and Learn About:
What IT managers need to know about AVoIP
AV networking standards--terms, acronyms and descriptions
Bandwidth considerations for audio and video
How Dante can be used across the WAN with Dante Domain Manager
What's in the paper
Considerations for successfully deploying Dante AV-over-IP on converged networks
Modern AV-over-IP solutions such as Dante are based on common IT standards, enabling them to run alongside data traffic on networks comprised of readily available conventional switches and cabling. Standards like IGMP Snooping, QoS, and PTP make running audio and video on the converged network a reality. Both Dante audio and video's bandwidth is optimized to run on Gigabit Ethernet commonly in place today. Adding Dante Domain Manager brings new capabilities that increase compatibility with existing networks and complete IT level management to Dante-enabled devices from all manufacturers.