Peltrix takes Dante over distance with Blue Note Entertainment Group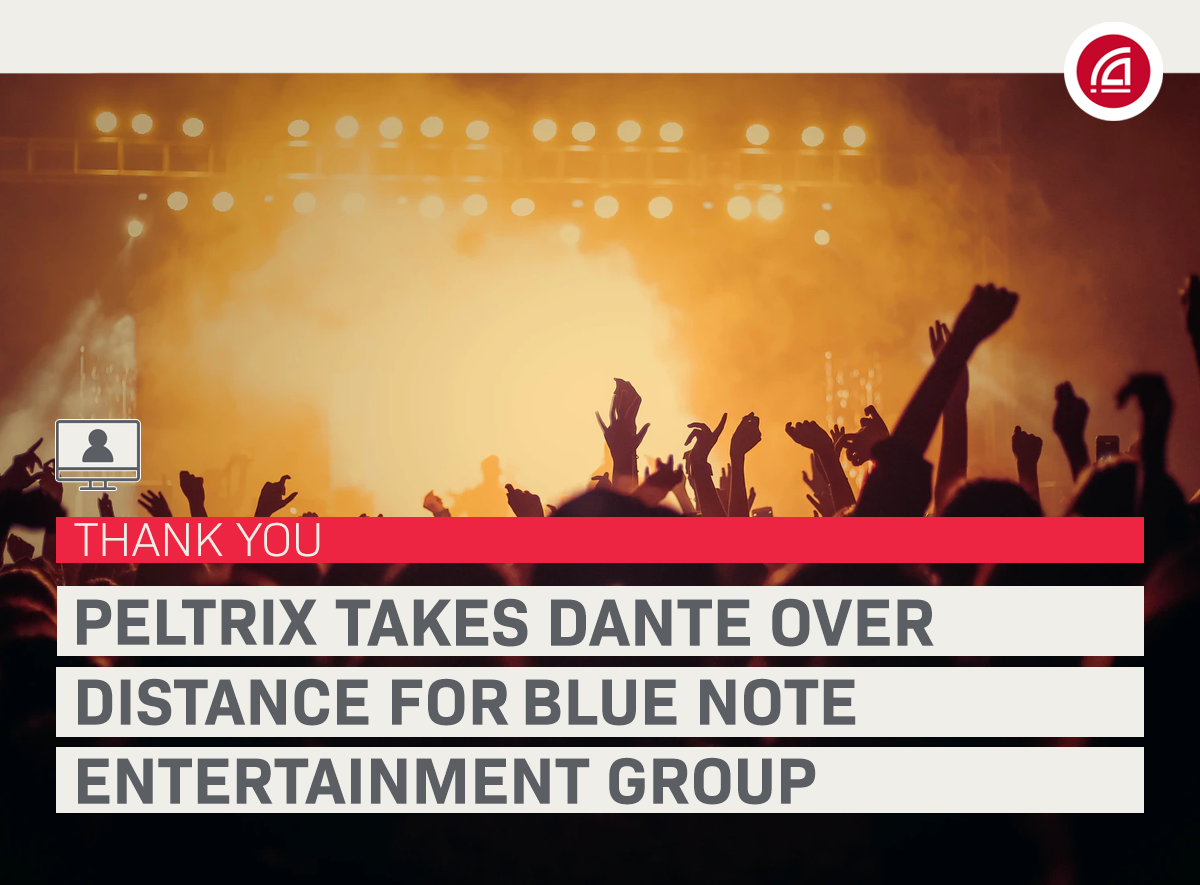 Over the last year, Audinate (makers of Dante), the Blue Note Entertainment Group (of the iconic Blue Note Jazz Clubs) and Peltrix (an integration firm) collaborated on an industry-first demonstration for long-distance, networked audio-video links. In June of 2021, they demonstrated their solution linking three locations up to 750 miles apart with multiple streams of Dante audio and Dante AV video links.

In this demonstration, system latency was so low, musicians were able to comfortably play together as if they were in the same room. No click tracks or guides were used, and timing was natural for performers. Dante AV played an important part in the demo, allowing musicians to see each other, taking visual cues, read body language and engaging with each other seamlessly. The products used are all commercially available today.

Join us for a discussion on the making of this demonstration with the key players behind it, offering their unique perspective and lessons learned. See clips from the bands, hear perspective from the musicians and learn how soon this demonstration could be a reality for you.
To view an archived version of this webinar, please fill out the form on the right.
Presenters
Amit Peleg
Founder
Peltrix
Amit's career in the AV industry spans nearly 40 years, starting with mixing and managing crews in the '80s. During those years Amit implemented technologies well ahead of their time including convolution reverb and immersive sound, finding ways to take them beyond a gimmick and into the realm of practical tools that deliver memorable experiences. On the recommendation of the late saxophonist Michael Brecker, Amit took the position of head engineer and production manager at the Blue Note Club in New York. There, Amit's reputation flourished as he mixed the biggest names in Jazz history including Ray Charles, Herbie Hancock, Dizzy Gillespie and Chick Corea just to name a few. In 1995, Amit formed Peltrix, a design, consultation and integration firm which provides services to such iconic venues as BB King's, Sony Hall, Howard Theater and various Blue Note locations.



Glenn Dickins
Platform Architect
Audinate
Glenn has lived and shared a love of spatial sound and telepresence since first working on cutting edge VR and remote collaboration in the 90s. Before joining Audinate in 2020, he was responsible for contributing and leading initiatives at Dolby, including developing the spatial audio engine for Dolby Voice. With a wide range of experience spanning start-ups to leading research groups, Glenn is generally found charging into projects and activities offering challenge and opportunity. The chance to work with real artists and venues, and bring/see just how lean we can push the Dante technology was too much for Glenn to ignore.



Patrick Killianey

Senior Technical Training Manager

Audinate

Patrick's career crosses live production, recording, broadcast, installed sound and automation, both as an implementor in the field and working directly for manufacturers like TASCAM, M-Audio and Yamaha. Training has been a particular passion, where Patrick has found a talent for transferring the lessons learned by the innovators and passing them to the majority in order to mainstream technology revolutions more quickly and smoothly. Patrick has focused on AVoIP and Dante in particular since 2013 and currently leads Audinate's global training team.