Dante & Your Campus AV System:


How AV-over-IP can support hybrid learning environments during COVID-19



For educators: using Dante as part of an AV-over-IP strategy makes is easy to support remote and online learning as part of the response to the global pandemic. Using networks to transport both live and recording educational content provides seamless integration with lecture capture systems and allows content to be distributed with full fidelity to many endpoints across a campus, including large halls, overflow rooms demanded by social distancing, and dormitories where students are safely isolated.
For students: for those who are on-campus but constrained by isolation requirements, AV-over-IP provides high quality access to lectures and content directly over the school network. For those who are taking classes off-campus, AV-over-IP helps school IT to implement robust streaming services, eliminating unnecessary hardware and complexity so that students can get to the content they need wherever they are.
Videos

Dante Via: Dante Via for Music Education and Collaborative Production

Dante for Socially Distant Rehearsals & Performances

This video offers a demonstration of how Dante Via can simplify remote collaboration for media production using simple conference tools like Zoom or Microsoft Teams.

Audinate Technical Trainer Miguel Garcia explains the differences between Dante Virtual Soundcard (DVS) and Dante Via, shows the operation of Dante Via, and speaks with Dr. Andrew Maz of Cerritos College to see how this changed their student/teacher interaction.

Getting together to rehearse and perform is more challenging these days than ever before, but with Dante, setting up socially distanced rehearsals and performances is a breeze. In this webinar, we will review real-world examples from High Schools and Universities using Dante for socially distanced practice and performance. From a simple system using Dante to connect rooms in the same building to systems spanning across a campus environment and even further, we'll tackle requirements to run a Dante Network while providing networking, design, and device recommendations.
---
| | |
| --- | --- |
| Case Studies | |
| | |
| Stephen F. Austin State University Keeps The Music Alive With Dante | How Audinate's Dante Helps USC Reach Every Student In The Time Of COVID-19 |
| Stephen F. Austin State University in Nacogdoches, Texas has utilized Audinate's Dante in its music and sound recording technology programs since 2018. In that time, Dante has not only become part of the curriculum, but has also enabled many of the university's major live productions – including its impressive jazz performances. But in 2020, Dante took on an additional role for the music department: an enabler of safe social distancing. | In a demonstration of the versatility, robustness and high performance of Audinate Dante AV network technology, the University of Southern California (USC) has deployed a vast AV network to over 248 learning environments that will be foundational for a new hybrid distance/on campus educational program the school will roll out this fall. |
| | |
---
ARCHIVED WEBINAR: Adapting Higher Education for COVID-19 - Using Dante to Create Hybrid Learning Environments
On this timely webinar, Audinate's Joshua Rush spoke with Joe Way, Director of Learning Environments-Information Technology Services for USC to discuss the school's migration to AV-over-IP using Dante. They covered how this approach has helped to position USC to support a hybrid learning model in response to COVID-19 that combines limited on-campus student attendance with distributed classrooms and robust at-home experiences.
Find out more about the webinar and panelists.
---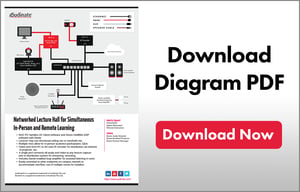 System Diagram: Hybrid Lecture Hall
In response to COVID-19 demands, we've created a lecture hall diagram designed for simultaneous in-person and remote learning. This easily scaled system allows a lecturer to simultaneously and seamlessly share audio and video content to attendees in the hall, students in overflow areas around campus, online UC services, and school lecture capture systems.

---


& Your Campus AV System:


Take Your Campus to the Next Level
Works across subnets:

With Dante Domain Manager, your Dante AV network can span network subnets so you can reach every point in every lecture hall, classroom and event space, with no more AV "islands."


Divide and conquer: Dante Domains are device groupings that let your staff work with the AV system as buildings, halls and spaces that you define, increasing ease of use and reducing errors.


Centrally managed: The Dante Domain Manager dashboard is available to you anywhere on campus, providing a single portal for all devices, domains and users as well as system status and alerts.



Security

:

Dante Domain Manager requires that every user be authenticated and assigned to specific domains, so you know exactly who is using the system at all times.


Dante Domain Manager at a Glance
Dante Domain Manager is a complete network management solution for Dante AV systems.
Dante Domain Manager provides the management and security that educational institutions demand for any AV system, adding user authentication, domain groupings and subnet management to Dante networks. Dante Domain Manager allows nearly unlimited expansion of your AV system to cover any needs today or tomorrow. Learn more.
---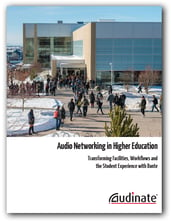 New White Paper: Audio Networking in Higher Education

Transforming Facilities, Workflows and the Student Experience with Dante
Find out how a Dante-based system with Dante Domain Manager lets you extend your audio system without the limits of other AV-over-IP solutions, addressing your entire campus as one coherent platform to serve the needs of teachers, students and faculty.
---
Higher Education Case Studies: Dante Domain Manager in Action!

Utah State University
Remote Classrooms: Going the Distance with Dante and Dante Domain Manager



University of Colorado Denver


Streamlining Workflows & Elevating the Curriculum with Dante Domain Manager

California Baptist University


Scaling with Dante to Meet a Huge Range of Audio Networking Needs
---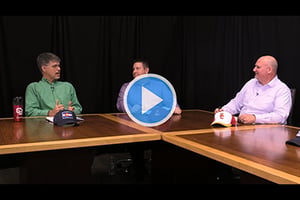 WEBINAR: Dante Domain Manager in Higher Education Summit
In this webinar, Audinate and our special panel of AV/IT decision-makers in an array of university settings gathered for a summit on Dante Domain Manager in higher education. They discussed the unique challenges they have experienced while managing a networked AV system in higher education, and how Dante Domain Manager has addresses these challenges.
Find out more about the webinar and panelists.
---
Video: The Benefits of Dante in Higher Education
In this video, learn more about how Dante Domain Manager allows educational institutions to increase efficiency, reduce cost, improve security, and improve system uptime.
---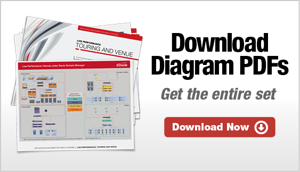 Dante Domain Manager Application Diagrams
We've created a series of system diagrams showing some of the most common scenarios of AV applications, including how you might create a more secure and more manageable system using Dante Domain Manager and its IT-style tools.